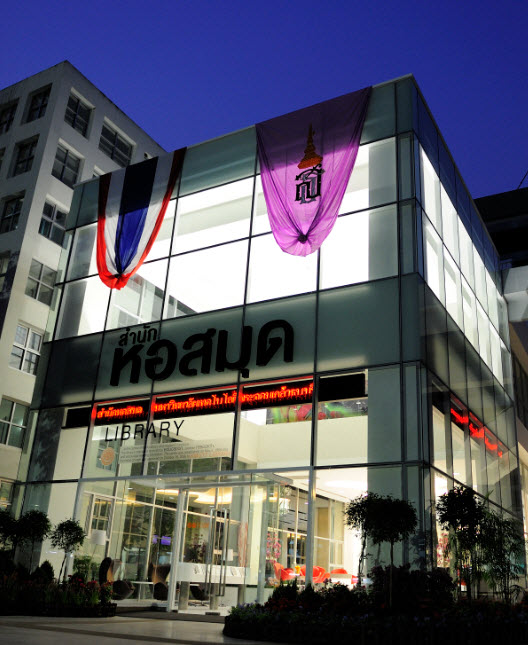 KMUTT Library is a central office administering library and information technology to support the university's missions in providing education, encouraging research, developing study techniques, and rendering services to society.
1988

Established

KMUTT Library and Information Center was established on May 5, 1988.

2000

KMUTT Library

Approved on October 19, 2000 by KMUTT University Council to change the name into KMUTT Library.
สำนักหอสมุด เริ่มจากงานห้องสมุด สังกัดกองธุรการ และในปี 2531 ได้รับการจัดตั้งตามพระราชกฤษฎีกา เป็น สำนักห้องสมุดและบรรณสารสนเทศ ปี 2547 เปลี่ยนชื่อเป็น สำนักหอสมุด ตามประกาศในราชกิจจานุเบกษาฯ
Policies
To promote user to participate in provision of information resources and set the rule and regulation which can be accepted.
To promote staff to participate in library administration : giving suggestion or recommendation, and considering the library activities affected
to long term implementation.
To support user life long learning.
To transfer collected information resources to remote users.
ส่งเสริมให้ผู้ใช้มีส่วนร่วมในการจัดหาทรัพยากรสารสนเทศ และตั้งกฎกติกาที่ยอมรับได้
ส่งเสริมให้บุคคลากรมีส่วนร่วมในการบริหาร : เสนอความคิดเห็นและร่วมพิจารณากิจกรรมที่มีผลต่อการดำเนินงานระยะยาวของสำนักหอสมุด
ส่งเสริมให้ผู้ใช้ใฝ่เรียนรู้ไปจนตลอดชิวิต
ส่งเสริมการถ่ายทอดความรู้และทรัพยากรสารสนเทศ ที่รวบรวมไว้แก่บุคคลที่อยู่ห่างไกล